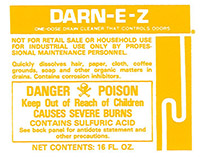 Click here for larger image
Darn-E-Z
Drain Cleaner
Material: plastic
Case Pack: 200/cs.
Product Dimensions 9" x 9"
Made in USA
One-Dose Drain Cleaner with Odor Control
Quickly desolves hair, paper, cloth, coffee grounds, soap and other organic matters in drains. Contains corrision inhibitors
Not for retail sale or household use
For industrial use only by professional maintenance personnel.5
Contains Sulfuric Acid, read product data sheet for information prior to use.
Starting at: $0.00